Home » Equipment » Vacuum Cleaners » Specialist Vacuum Cleaners » Karcher IVC 60/12-1 Ec H Z22 (240v) Industrial Vacuum
Karcher IVC 60/12-1 Ec H Z22 (240v) Industrial Vacuum
Cleaning Applications:
Indoor & Outdoor
power supply:
Plug-in Electric
Give us a call for a quote 0800 859 5151
Delivery Same Day / Next Day
Set up and training provided
Excellence in customer service
Machine repairs, servicing, maintenance & breakdowns available
Power Supply (V)
240
Standard Nominal Width
ID 70
Tank Capacity (L)
60
Sound Pressure Level (dB(A))
76
Air Flow (l/s/m³/h)
39/140
Input Power (W)
1000
Cord Length (m)
8
Weight (Kg)
59
Dimensions (L x W x H) (mm)
970 x 690 x 995
Compact Flat Pleated Filter
Large Filter Area
Brush-free Ec Motors
Wear-resistant
Dust-free Emptying
Protected by an Outer LDPE Bag
IVC 60/12-1 Ec H Z22 Operating Manual
Karcher IVC 60/12-1 Ec H Z22 (240v) Industrial Vacuum
The IVC 60/12-1 EC H Z22 is a highly compact industrial vacuum cleaner for wet or dry dirt.
The machine features a single, brushless EC motor providing extremely long service life and enabling non-stop operaiton. Kärcher's unique Tact automatic filter cleaning system ensures constantly high filtration, even in harsh operating environments.
With a stainless steel body and tub, and tubular steel frame with large wheels, the IVC is extremely tough and very easy to move from one area to another.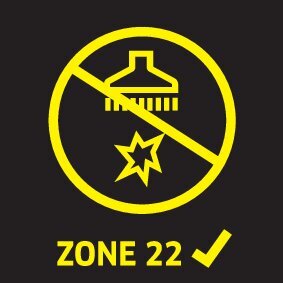 Get a Quote
Call us on 0800 859 5151 or complete the form below to get a quote for Karcher IVC 60/12-1 Ec H Z22 (240v) Industrial Vacuum